Seats at the table
For those who have been following closely, good freaking job. Because so much has been going on, even I struggle to keep up – and I'm the one in charge. In the space of seven months, I managed to ride through the Atlas mountains, relocate to Sheffield and race in Portland, and that's just the tip of the iceberg.
In recent weeks, I found myself with a seat at the table of two inspiring conversations: The Industry Summit of the Chris King Open House and the panel "How cycling and creativity intertwine" at the SRAM booth of the road world championships. Here's a round-up of both panels.
Chris King Industry Summit
I would like to dive deeper in my time in Portland for the Open House, but for now I'd like to run through a few of the topics we approached. The discussion was moderated by Bob Scales (Sales and marketing manager, Chris King Precision Components) and Jocelyn Gaudi Quarrell ( founding member of WTF Explorers and owner of GoboxPDX) – who put together a series of topics and questions to keep the conversation flowing and on track.
---
Around the table you could find Hannah Mirsepassi, working in sales at Pine Mountain Sports, a large bike shop in Bend, and the manager of their Dirt Divas program; Elayna Caldwell, General manager at Juliana Bicycles; Jocelyn Vande Velde who works in marketing for Bosch eBike Systems; Annalisa Fish, Physical therapist, bike fitter, owner of Endurance PDX and host on the We Got to Hangout podcast; Brooklyn Fowler, from SRAM, one of the strongest and positive forces in the industry, from mechanics experience to facilitating inclusivity (you have to listen to the Bikerumour podcast they recently did with Anna Schwinn); and myself: Adeline, owner of Mercredi bikes and Good Vibes Only CX team.
I found that everyone brought a very interesting and different perspective and opinion to the conversation – as we focused in turns on technology and culture. The breath of experiences that Chris King brought to the table by inviting us all was really inspiring to me and I was first immensely intimidated then humbled and super inspired. I hope these discussions will continue to evolve, continue to be actioned, and help shape the industry into a more diverse, welcoming space for everyone. One that reflects better the diversity of the whole world we live in, not just our current bubbttle.
You can watch the entire discussion on YouTube here (feel free to skip the lunch break):
—
---
SRAM's world champs pop up: How Creativity and Cycling Intertwine
A few weeks prior to that, the world migrated to Harrogate, to support, spectate and soak in the insane atmosphere of the road cycling world championships. SRAM gathered some of their partners for rides, to test the new AXS groupsets on the finest bikes, and creative workshops.
For the whole week, kids and pros, locals and visitors, young and old, passed through the pop up and took on designing their own caps, musettes and ride journals, given free roam in the pen pots and stencils stacks. Some came with a clear goal in mind, some just gave it a go having found themselves there hiding from the rain. No matter who they were, everyone ended up frowning with concentration, absorbed in the making so deep they almost forgot about the race.
SRAM had curated a capsule collection for the event, with 3 different designs each designed by an ambassador. The collection had very different flavours, but all felt part of one family for being on the same mediums. I love how each of us used the limitations of the brief to push ourselves in one way or another. For those of us who like nerding on process – the originals were also hanging out in the space and I loved getting up close and personal with everyone's work. I spent a lot of time drawing the Landscape and the flora of the moors of Yorkshire and was so happy to see the result in a environment that helped make everyone feel creative. (you can purchase some of it here)
The pop up was also home to two panels; the future of women's cycling, on Wednesday, moderated by Kate Powlison with Yewande Adesida, Juliet Eliott, Ruby Isaac, Ella Harris and Tanja Erath; A great discussion on the barriers to progression from amateur to pro, new ways to recruit riders from grassroots to elite contracts, and hopes and inspiration for the future of the sport on all levels.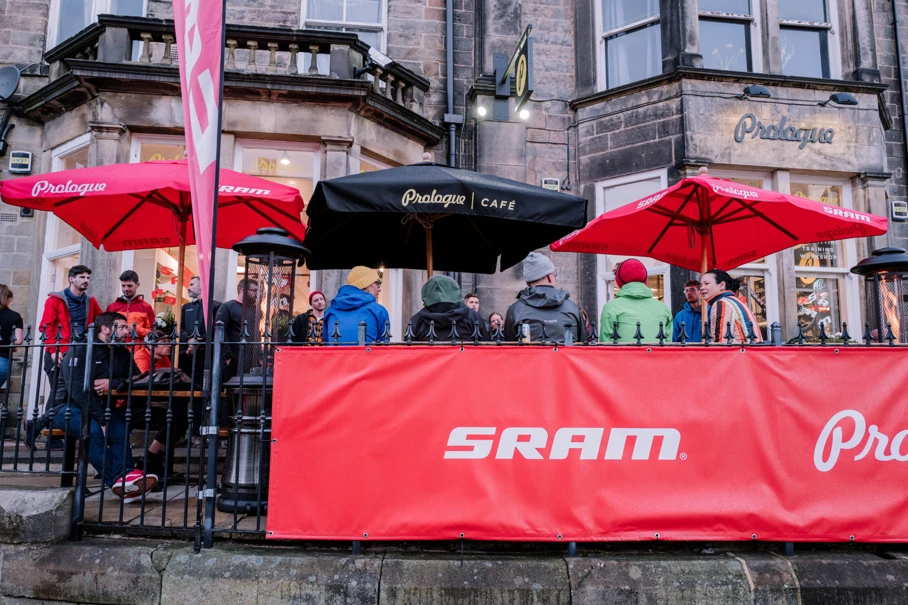 And on Friday we took over the patio for How Creativity and Cycling intertwine. The discussion was moderated by Lisa Lim, who is a designer at SRAM and helped shape the SRAM pop up into the hive of activity and creativity it was, and featured Chris and Emily, owners of Squid Bikes and strong advocates of the DIY attitude, Chas or Notchas, graphic artist inspired by all his journeys, and myself: Adeline, framebuilder and illustrator.
We touched on many topics and it was fantastic to discover similar threads of inspiration, vulnerability, travels and focus. Being allowed a window into each artist's process was fascinating and so lucky, and felt so intimate. Hearing from Chris, Emily and Chas, as well as putting words on my own practice, it was so inspiring.
The pop up gave the tools to anyone passing by to try something now. To make something. And I hope it inspired folks to carry on doing that, even when the craziest week in Yorkshire was over. Making stuff, it's just the best.